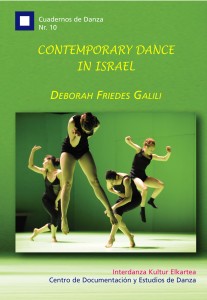 Contemporary Dance in Israel, by Deborah Friedes Galili, is the first book in English devoted to one of the world's most vibrant contemporary dance scenes.  Composed of short sections about choreographers, companies, festivals, theaters, and other organizations, the book introduces newcomers to Israeli contemporary dance and enables readers familiar with the field to learn more about leading artists and institutions. Contemporary Dance in Israel was published in 2012 by Asociación Cultural Danza Getxo in both the original English text and a Spanish translation.  The English book is available for purchase in paperback as well as in several e-book versions, including an Amazon Kindle version and a PDF version compatible with the iPad, e-readers, and computers.
This website is designed as a multimedia companion to Contemporary Dance in Israel.  Here you can find short videos of works discussed in the book as well as links to the websites of choreographers, companies, festivals, theaters, and other organizations.  To view these materials, use the navigation bar on the side to click on each chapter of the book.
Deborah Friedes Galili, the author of Contemporary Dance in Israel, is a Tel Aviv-based independent dance scholar and dancer. Deborah began researching contemporary dance in Israel on a Fulbright grant in 2007-2008 and subsequently covered the scene on her website Dance In Israel and in newspapers and magazines.  In addition to writing, she teaches dance history for the Dance Jerusalem program and is available to lecture about dance in Israel both via Skype and in person.  Deborah is also a certified Gaga teacher.